October 19, 2020
Dear Aiken High School rotary Interact Heroes,
Please sign up to help us cheer for our cross country teams as they compete in their regional championships.
We'll bring signs, posters, banners and most importantly, our strong lungs to cheer the boys and girls teams to victory!
When: Wednesday, October 28, 2020, 3:30 pm – 4:30 pm
Where: Generations Park, 700 Mack Henry Holland Dr, Aiken, SC 29801
How: sign up HERE.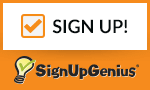 I hope to see many of us there!
Sincerely,